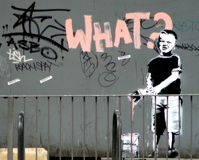 I'm a middle-aged Londoner who's worked as a software developer, a university tutor and a company director. As the painfully mangled English of the site's name suggests, this blog is to be a place for my thoughts. Thoughts, that is, that are primarily on big issues such as mind, identity, religion, and society, and only more rarely on the little details and ephemera of life. As a programmer, I haven't had to write English prose for a very long time, and I'm not yet sure whether I'll have the ability to create enough original, readable and coherent text to make this site worthwhile. In fact I'm feeling somewhat unsure and self-conscious about this whole blogging thing at the moment; so this is partly an experiment to see if I can learn to write.
To me, the single most interesting topic of all is how (or, indeed, whether) consciousness is enabled by systems of non-conscious matter, and I would like to spend a large portion of my time exploring this and related ideas in the philosophy of mind. Certain more abstract and fundamental philosophical areas also appeal, in particular those in the field of ontology. It's amazing how much mileage one can extract from the simple-looking word "is".
But more urgent issues are creating a distraction. Our world is already rife with poverty, violence, exploitation and suffering, but climate change, ideological oppositions and resource depletion all seem perilously close to causing catastrophic increases in every one of these woes. Leaders, politicians and the other power bases (media, religious, corporate) all seem intent on exacerbating the problems rather than finding sane and rational ways to deal with them (and with each other). The everyday wonders and luxuries of the so-called developed world currently seem so normal and so stable to those of us who are enjoying them, but to my eye they look ever more fragile. For most people on the planet normality includes only extremely tenuous access to food, water, energy, communications, education, healthcare, shelter and security. I do wonder whether this version of normality is soon to become the dominant one for all.
Quite why we are unable to get on with each other or our environment, as an ideal bunch of diverse but reasonable people should, is a topic that brings us round to "mind" once more. It seems to me that people are just not well adapted to logical thought; our thinking is riddled with irrelevant obsessions, cognitive illusions and unhelpful intuitions. I see religion as one symptom of such counterproductive thinking, but many aspects of the materialist consumer lifestyle are similarly misguided. Of the many approaches to psychology, evolutionary psychology appears to me to offer particular promise to untangle this area. Systematic studies of human foibles might just help us to find ways to work around our self-destructive tendencies and build more convivial and sustainable societies.
Although as an atheist I'm naturally saddened to see so many clinging to bizarre faiths despite any evidence in their favour, I'm also pragmatic enough to realise that it's vastly more important for everyone to learn to coexist peacefully than it is for each of us to try to prove the supremacy of our own belief systems. I believe that No God is the one true God but I'm generally happy to deal with those who think otherwise. I'll be setting out my stall on these matters and look forward to trading views with my competitors.
So here's a handful of wide-ranging issues just for starters. The trouble with such grand and weighty matters is that one can come across as slightly deranged even contemplating them. They are far from the familiar flow of everyday life, and reading the above paragraphs I am a fraction alarmed by the tone. In real life I'm more of a cynic; here I seem already to be horribly earnest. Grand themes are also already well covered by grand thinkers, and my attempts at playing in this field are bound at times to be clumsy, clichéd or naïve. In formal terms I'm entirely unqualified to write on philosophy, politics or psychology. But I'm not going to let that stop me.
All constructive comments are welcomed. To get in touch directly write to u at thortz dot com.