December 2nd, 2006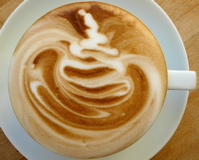 This site's theme is Skimmed Milk and if that seems odd to you I should mention that "theme" is a WordPress term for the presentation of a site. Its visual design, layout and language are all, for the most part, customisable. This page is about the theme of the site in this sense, not in the sense of an overarching subject or topic of discussion.
If you have a WordPress blog and would like to use this theme then feel free to pick up a copy at the bottom of this post. [Edit: this version has been superceded. The latest one is available here.]
I didn't set out to write a theme. I found a lovely one, called White As Milk by its designer Azeem Azeez, which attracted me by its deliberate visual sparseness and simplicity. I'll just take this, tweak a few minor things and start blogging, I thought.
But I'm a programmer; I like to understand code, and when I peered inside I found a few pieces that didn't seem to fit together. Basically, the code appeared to be showing its age and heritage; it was a theme modified from another that was based on another and so on. And fragments of each of the previous versions lay around like archaeological shards in rock strata. One or two files didn't seem to have any use any more, the same idea was expressed differently in different contexts, and areas at the margins of use (such as error messages) did not appear to have been restyled at all. It's all so visually simple, I mused, surely the code doesn't have to be this complex? I'll just do a little tidying…
Being a programmer doesn't mean I'm a web developer. My HTML, PHP and CSS skills ranged from extremely dusty to non-existent so I had to mug up on these, CSS especially, and to learn the particular ways of WordPress too. Before long, the tidying had become two weeks of fiddling, tweaking, testing, and code bothering. No file remained untouched. Slowly, I realised that my tweaking was improving my understanding of WordPress themes more than it was improving the theme itself. And when I had come to terms with why WordPress and PHP encourage so much duplication and complexity, when everything looked fine in my browser, Safari, and when I had at least visited all the code and pushed it around until satisfied or simply bored, I started testing more widely.
This demonstrates my naiveté, stupidity really, web-wise. Of course the design appeared totally scrambled in IE, and ugly in FireFox and Opera. I should have been testing on these all along, and hacking to meet their individual quirks, especially the irritating wayward ways of IE. So another round of snagging and twiddling was started to find a compromise that would at least survive in each of these, and slowly I found out why so many apparently strange or redundant oddities had been in the CSS in the first place.
So did I make any progress at all? Perhaps a little. I have tried not to alter the overall visual style of White As Milk which I still like very much, although I have made the main column thinner and have played with the colours. The main other changes are
The layout varies according to text size and on browsers other than IE will squeeze to fit restricted window space. This should make it easier for people who need or prefer to change the text size.
The style sheet is associated with all media so print outs should look similar to what is seen on the screen.
Oversized elements such as large pictures or long lines of text in pre tags should now be contained within the column width in all browsers.
Various phrasings have changed according to my whim although in general I hope there is greater consistency and that messages, whilst brief, are informative.
"Pages" (such as this one) may include comments; if you don't want them then you should explicitly turn off pings and comments for the appropriate pages.
The code, and the CSS in particular, is more extensively commented. Perhaps this will help users to make their own adjustments more easily.
Skimmed Milk has been primarily built to meet my own needs. I haven't added extra functionality, fancy AJAX features or any other bells and whistles. Author names are not handled & there are no templates for pop-up comments or attachment pages. For the moment, at least, the scope of the theme is as minimal as its design.
If you'd still like to use it then pick up a copy below and follow the WordPress instructions to install. Do let me know about any bugs, suggestions for improvements, or just what you think. Finally, I send my thanks and respect to Azeem Azeez, Michael Heilemann and any others for creating the originals on which this version is based.
[Note: this version has been superceded. The latest version is available here.]